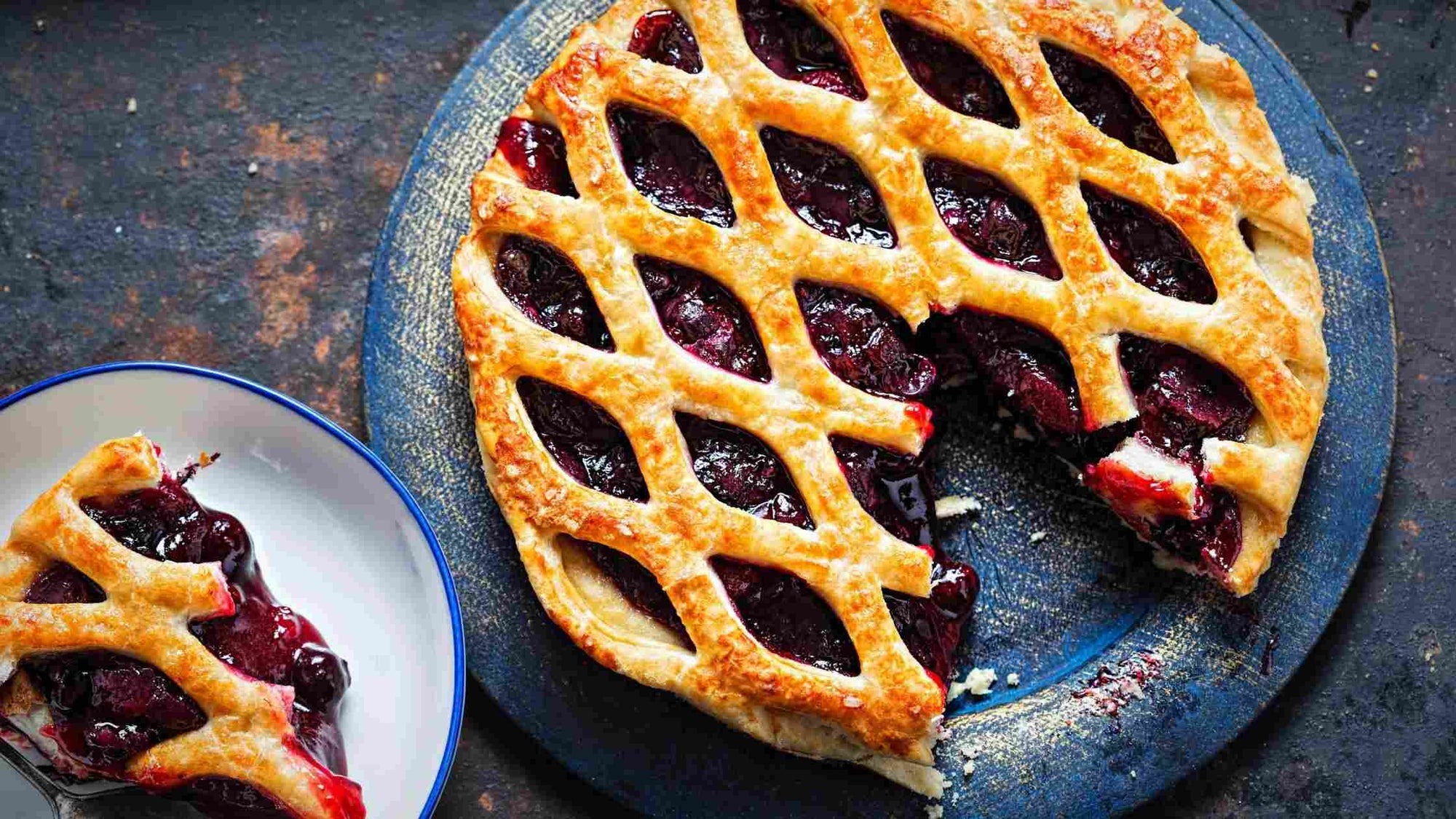 · By Buda Juice
Cherry pie
Cherry pie is a pie that is filled with cherry filling and baked in its characteristic round mold. Interestingly, Cherry pie will always be prepared with sour cherries rather than sweet ones. The cherries that are used are called Morello, that is, they are the best, and black cherries can also be used.
Cherry pie is associated with Europe and North America and is often mentioned in songs by greats like Billy Boy. This dessert is traditionally served on Canada Day, but also on Independence Day in America.
It is usually served with whipped cream or ice cream. Since you are currently reading a healthy version of Cherry pie, we will make the ice cream ourselves, using ingredients that will perfectly complement this dessert.
No shopping Cherry pie will be able to compete with this one you can make today. Preparation is simple, don't worry, you won't have to finish school to make it successfully. The only problem could be making a finishing crust that is traditionally intertwined. But with that said, there are more ways to prepare the crust so no worries in this part either!
Ingredients needed to prepare Cherry pie
Dough:
- 350 g of soft flour
- 230 g butter
- 2 tablespoons sugar
- 4 tablespoons water
- ¼ teaspoons of salt
Stuffing:
- ½ kg of cherries
- 3 tablespoons of starch flour
- 3 tablespoons of sugar
- A pinch of cinnamon
Preparation:
You will mix the flour and butter first. The butter should be at room temperature to make it easier to stir. Then add sugar and salt, and a tablespoon of cold water. Mix the mixture with your hands and shape the dough into a ball on the work surface. Divide them into two parts 1/3 and 2/3 of the dough. Wrap both parts in foil and leave the dough to rest for 1 hour.
It is essential to de-bone the cherries first. You can do this by taking one straw and piercing the cherries through the middle.
In a larger bowl where you'll cook the Cherry pie filling, add 1 tablespoon of water and add cherries. Cook for about 8 minutes until the cherries are soft and the sugar has melted.
You will now mix the starch flour and sugar. Add this to the cooked cherries and stir until everything is combined. Add the cinnamon and let your Cherry pie stuffing cool.
Preheat the oven to 175 ° C. Roll out most of the dough and line around the Cherry pie tin with it. Roll out the second part of the dough and cut it into strips about 1 to 2 inches wide.
Pour the filling on the dough and spread it evenly. Arrange the strips so that they are in an intertwined order, like a real American Cherry pie. Press the edge of the dough into strips to connect everything, sprinkle the stem with sugar, and bake for about 45 minutes.
What to do while Cherry pie cools down?
First, a well-deserved rest! Sit down and re-hydrate a bit, how would a 100% Apple Juice sound to you? You can share this large pack with the family while you wait for the fruity joy to come out of the oven.
In addition, they could also make ice cream that will go PERFECT with Cherry pie.
You will need:
1 cup of cream
1 tablespoon sugar
1 teaspoon salt
1 vanilla bean
Mix all ingredients. Add the vanilla to the mixture. It would be best to have an Ice Cream maker, but if you don't, just mix everything well enough. You will need to mix for at least 10 minutes to bring everything together well. Then leave it in the freezer for a short time (approx. 1 hour). Then take it out, stir again, and put it back in the freezer. This time allow the mixture to compress completely. It would be best to let the ice cream run overnight, that way you are sure that it is really chilled and hardened. Serve your Cherry pie with Ice cream and enjoy!
Vegan and gluten-free options
There is a substitute for everything! If you can't eat some of these ingredients, feel free to change the ingredients for what suits you!
As for the flour used in the preparation of the dough, feel free to use gluten-free flour. You can buy flour that is made for pies and sweet delicacies. If you do not have flour that specializes in sweet dishes, use the usual gluten-free flour.
As for replacing the starch, there are a lot of them. Potato starch, tapioca starch, cornstarch, corn and potato starch, arrowroot, rice starch - just choose one and start preparing!
Instead of regular, cow's milk and cream, you can use almond, coconut, rice, soy, ... The choice is great. That is why it is best to see in the nearest store which milk is the most cost-effective and personally the most delicious.
Also, replace butter with a vegan option. Prefer vegetable butter or coconut butter. Any fat will do the trick so you don't have to worry.
Ordinary white sugar is used in the recipe. If you are not a fan of white sugar, feel free to replace it with brown sugar or any other sweetener. This can be, for example, stevia, agave nectar, maple syrup, and the like.
The most important thing is to have a good time and eat well while preparing Cherry Pie. It can stand in the fridge for up to 3 days covered, so you also have a very tasty breakfast and a hearty snack.
Enjoy a warm, sweet Cherry pie with Green Juice! Bon Appetit!