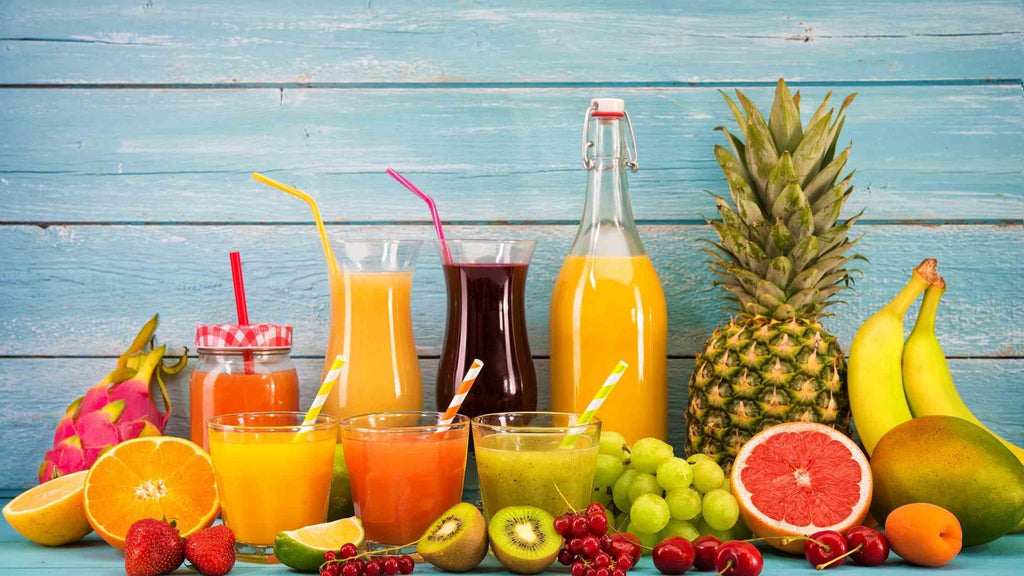 5 a day should be an important aspect of anyone's life. A balanced, varied diet, in general, is a great way to ensure life's quality. Lucky for you, we have something amazing to offer! Our cold-pressed juices are an excellent choice that has many benefits! If you want to learn more about the mentioned benefits, keep reading!
Cold-pressed juices. What are the benefits?
Our juices can be enjoyed by anyone! There's a good variation in our selection, and most importantly, it's great for your 5 a day! They're both healthy and tasty, the best combination imaginable. Take our Green Juice, for example, it contains cucumbers, celery, kale, spinach, apple, parsley, ginger, and lemon. Green Juice helps soothe your stomach, has tons of healthy vitamins, and is also an alkalizing agent. If you feel bloated or out of energy, just give it a try! Your body will get exactly what it needs and you'll feel better instantly.
Speaking of vitamins, they play an integral part in our lives and should be taken daily! Vitamins like K, A, C, E, and others, keep our bodies in check while also making us feel good. It's important to note that there is such a thing as too much though. Vitamin A's, which can be found in our cold-pressed juices, recommended daily intake is around 800 mcg, which is 0.8 mg. Vitamin A is great for your eyes, it keeps your vision healthy, it may lower the risk of certain cancers, is good for the skin and bones, and more. Vitamin C, on the other hand, its recommended daily intake is higher, sitting at around 80 mg per day. It can reduce the risk of chronic illnesses, helps to manage high blood pressure, prevents iron deficiencies, and more.
Selection of our cold-pressed juices
If you're unsure about our aforementioned Green Juice, don't worry, there are many more options for you to choose from. Red Juice contains celery, beet, ginger, apple, and parsley. Its fantastic taste and health benefits are appealing in themselves. Blue Lemonade consists of cucumbers, apples, lemons, and spirulina. This one is not only healthy, but it's also good for hangovers and post-food coma. That goes out to you, our responsible adult readers! We also have brain boosters like Pure Green Juice, which has limes, kale, mint, cucumber, fennel, and spinach. Zen Kale has kale (shocking, I know), pineapple, and apple. It's packed with vitamins A, C, and K, and is an antioxidant powerhouse! If you don't like mixing different fruits and veggies, we have two cold-pressed juices with only one ingredient. 100% Celery Juice and Zen Orange contain precisely what's in their names and are great for you!
A healthy, balanced diet
Nutritious and varied diets are essential to your well-being. Fruits, vegetables, fish, meat, eggs, potatoes, bread, pasta, rice, various fluids, all of the mentioned and more can be great for us, both physically and mentally. That's why it's important to have a proper 5 a day, to ensure we feel great in every way possible. We've all heard of the dreadful caloric intake, but what does it exactly mean? It means that, if you take too much, you gain weight, if you take too little, you lose weight. Simple, right? The average person needs around 2000 worth of calories every day, but the number can obviously change due to age, sex, and physical activity levels. 
Now, alongside calories, it's also important that the food and drinks have proper nutrition, otherwise, those calories would be bad. There's a reason they're called empty calories. They can be found in cakes, pizzas, energy drinks or sodas, cookies, and more. Although they're not lethal, they should be avoided whenever possible. The nutrients in our diets should consist of vitamins, minerals, antioxidants, carbohydrates, protein, and healthy fats.
A proper diet goes a long way and our cold-pressed juices can help you with just that!
Make sure to get your 5 a day with your favorite Buda Juices!