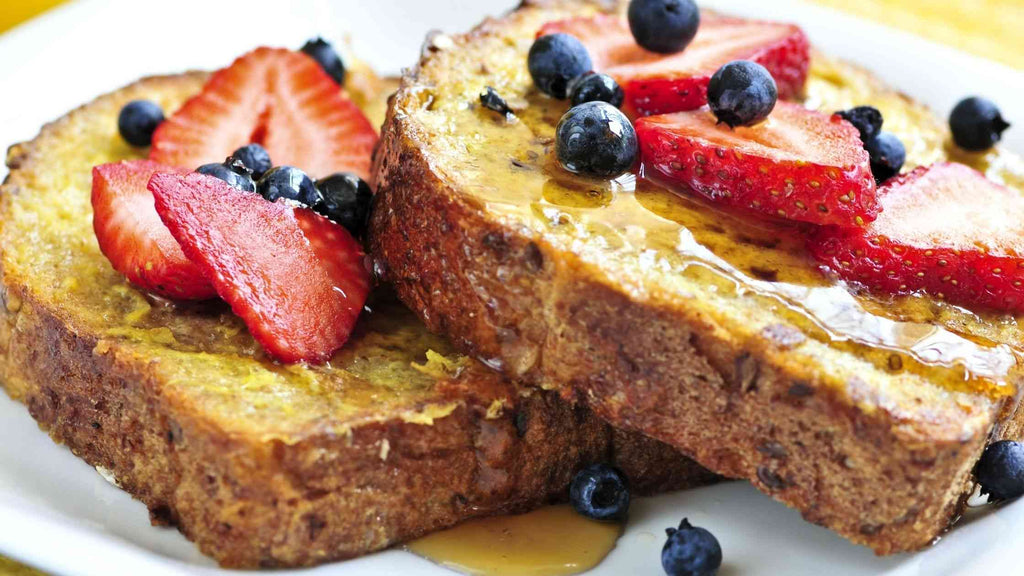 French toast is one of the favorite treats ever. We ate them as kids and we will make them for our kids. French toast can be made by just about anyone, in a healthy version. You can make it for breakfast or dinner and as a snack. It is a dish made of bread, eggs, and milk, baked in a pan. It is often associated with unhealthy eating, but it can also be made in a healthier variant that will delight on an equal footing.
French toast can be made in a sweet or savory version, and toppings are added. Toppings on the sweet version are usually syrups, chocolate, fruit, and the like. On the other hand, toppings on the salty version would include salt, pepper, ketchup/mayonnaise, but we will not use that in these recipes.
Below you will read 3 recipes, two of which are sweet and all are gluten-free and vegan! And don't worry, we said it would be healthy, but still use a little chocolate.
Also, you can accompany these three Healthy French Toasts with amazing, nutritionally rich, and only made from organic ingredients, No.02 Red Juice.
Healthy French Toast with Berries
For this french toast you'll need: 
1 tbsp gluten-free flour
¼ cup almond milk
½ tsp vanilla extract
½ tsp cinnamon
¼ tbsp sugar
½ tbsp vegan butter
2-3 slices of soft, gluten-free bread
Toppings:
Coconut yogurt
½ cup of sliced strawberries and blueberries
Strawberry jam
Put the French toast ingredients (flour, milk, vanilla, cinnamon, and sugar) in a bowl and mix everything. Put vegan butter on the skillet and melt it. Dip slices of bread into the mixture on both sides and bake in a pan. Let the toast bake on each side for two minutes, or until it gets a golden brown color on the crust.
Put coconut yogurt on one French toast and sprinkle with chopped strawberries and blueberries. On top of the other French toast, put some strawberry jam and sprinkle with chopped strawberries and blueberries. Combine toppings as you wish! 
Best accompanied with No.02 Red Juice or No.04 Blue Lemonade!
Savory French Toast
This savory french toast will delight you! We believe you all craved a little savory flavor after so many sweet ones. It will take you about 10 minutes to prepare this French toast.
Ingredients needed to prepare savory french toast:
½ cup unflavored almond milk
1/6 cup gluten-free flour
1 tbsp soy sauce
¼ tsp kala namak
2 tbsp garlic powder
2 tbsp onion powder
1 tbsp oil (whichever you prefer)
3 slices of soft and gluten-free bread
Toppings (whichever you prefer):
Vegan gravy
Vegan butter
Avocado
Herbs
Preparation is very simple. Whisk the French toast ingredients in a larger bowl. Prepare the pan and add the oil of your choice. When the oil is heated, dip a slice of bread in the French toast mixture and put the slice of bread in the pan. Bake on each side for 2 minutes or until the bread gets a golden-brown crust.
Use the toppings as you wish. You can put vegan gravy on one loaf and sprinkle it with herbs. You can also put vegan butter and herbs on the other piece of bread. Combine how it suits you and how it tastes best to you. Enjoy!
Best accompanied with No.01 Green Juice or No.02 Red juice!
Healthy Chocolate French Toast
That's right - chocolate! This French toast is made with gluten-free ingredients and is safe for vegans!
To prepare this healthy chocolate French toast you will need:
¼ cup oat milk
¾ tbsp ground flax seeds
1 tbsp cocoa powder
½ tsp ground cinnamon
½ tbsp vanilla extract
½ tbsp cornstarch
2-3 slices of gluten-free bread
Toppings:
Vegan marshmallows
Vegan chocolate
Prepare a large bowl and put all the ingredients inside. Whisk the mixture with a whisk until everything is combined. Allow the mixture to stand briefly to allow the mixture to thicken slightly. After a few minutes, stir everything once more and start dipping the bread. So hold the bread in the mixture for a few seconds and repeat on each side.
It would be desirable if you had a pan to which nothing sticks. That way you won't need oils. Put the bread in the pan, bake for two minutes on one side, and two more on the other side. You should have a golden brown cover. Stir the mixture each time you dip a new slice of bread.
Place chocolate cubes on one loaf, and marshmallow on the other. If you have leftover mixes for the third slice of bread, don't bake it until you've eaten the first two French toasts. That way you tried both versions so you can put what tastes better on the third French toast!
Of course, if you want a super healthy and nutritious drink to go with your healthy french toast, choose No.02 Red Juice!