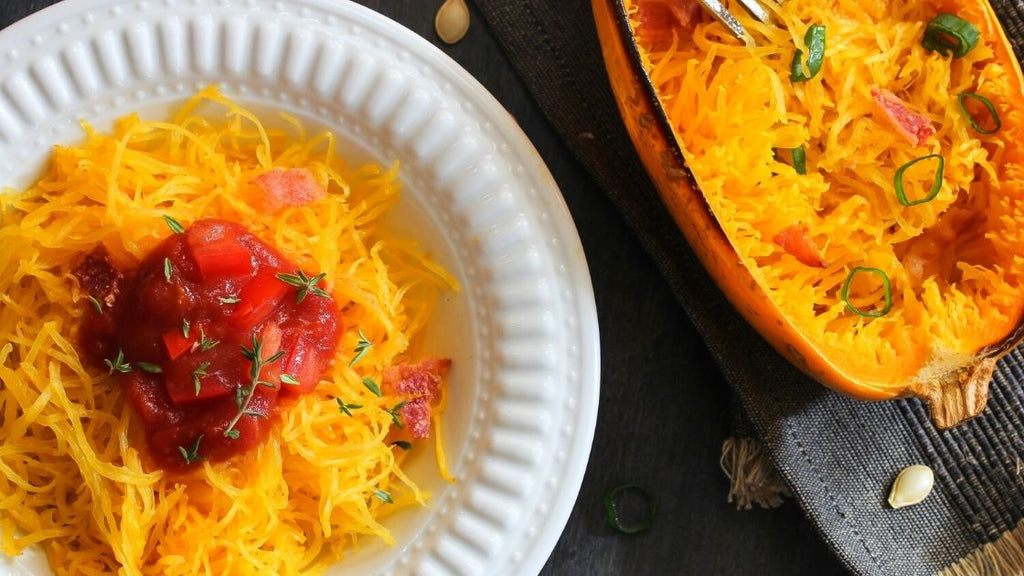 Do you love spaghetti? We certainly do, but eating spaghetti is a no-no for maintaining a healthy balanced diet. And because it's already May and we have the perfect full body dumbbell workout ready to get our muscles going, we need to keep up with the diet! How you may ask? Well, with healthy alternatives to all-time pasta. Today, we'll explain step by step how to prepare an oh-so-delicious spaghetti squash recipe. So go grab your favorite Budajuice and let's get going!
Spaghetti Squash Recipe
First and foremost, the ingredients! Obviously, you will need squash but that is not all of it! Grab some healthy fats (extra virgin olive oil will do the trick!) and salt. Plus your sauce of choice, but make sure to keep it healthy too! We'll give you a few ideas at the bottom of the article.
The sweet taste of squash will give this spaghetti squash recipe a unique touch. But the real deal is what you'll garnish it with!
Before we get into the actual recipe, a few professional tips & tricks from someone who's been doing this for quite a long time:
Don't overcook the Squash. You still want it to have a real pasta feel, meaning it needs to be a bit crunchy. If you overcook it, it will turn into mush.
Don't overdo it with the oil, as this will also contribute to a more mushy result.
Let the squash cool down before you start scraping out the spaghetti, otherwise you might also turn it into mush plus you might burn your fingers!
Now that you've been advised... let's get to it, shall we?
Ingredients
1 Squash (size will depend on how many people will eat from it, calculate one half per person)
Extra virgin olive oil
Salt
Your sauce of choice (check the bottom for sauce ideas)
Directions
Start by preheating the oven to 200ºC
Cut the Squash in half and remove the seeds with a spoon, make sure to clean it up well.
Gently drizzle the squash (remember the tip above!) with olive oil and salt
Now turn upside down onto the oven sheet (previously covered with foil) and poke some holes in the back of the squash with a fork.
Time to get into the oven! Depending on the size it will take more or less but calculate approximately 35 minutes.
Now let it cool down while you prepare the sauce.
Once it cooled down, it's time to use the fork, from outside towards inside, and scrape some nice spaghetti.
Add your sauce of choice and Buon Appetito!
Now, let's talk sauces for the Spaghetti Squash recipe!
If we want to keep it healthy, part of the deal is definitely the sauce. You can't simply substitute regular pasta with squash and simply add a super greasy sauce. We need to stick to healthy options. But worry not, we've got you covered! Healthy does not mean tasteless nor souless!
Option 1: Bolognese
Bolognese sauce originally comes from Bologna, a beautiful city in the Italian region of Emilia-Romagna. Its basic ingredients are: a sautée of onions, carrots, and celery; tomato sauce, and minced meat of choice. To keep it healthy, go with beef and avoid pork or sausages. If you want to add a bit more flavor, use fresh basil at the very end and drizzle with a bit of Parmigiano Reggiano (Parmesan cheese!).
Ideally paired with our N.02 Red Juice.
Option 2: Aglio, Olio, Peperoncino.... e Pancetta!
Another all-time classic of italian cuisine is "Aglio, Olio e Peperoncino" which translates to "Garlic, Oil and Chilli Peppers", but we'll add a twist to it: Pancetta! Just heat the oil in the pan and add some nicely cut garlic and chilli peppers. Let the garlic get golden but not burnt, and set aside. Now cook the Pancetta (try to avoid the fattiest area), when it gets crunchy, add the garlic and chillies back, and sautée together with the squash spaghetti for a few seconds.
Tip: Don't overcook the spaghetti in the pan or they will stick!
Ideally paired with our N.01 Green Juice.
Option 3: Summer Chickpea Green Salad
Now, who doesn't like a nice cold pasta salad in summer? Well, here you have its healthy alternative.
You'll just need some cooked chickpeas, feta cheese, freshly cut tomatoes, onions, peppers and some cooked (but cold) spinach. Mix all together with the cold spaghetti squash et voilà! Now add a bit of olive oil, a tiny bit of lemon juice, and you have an amazing summer alternative.
Ideally paired with our N.10 Zen Kale