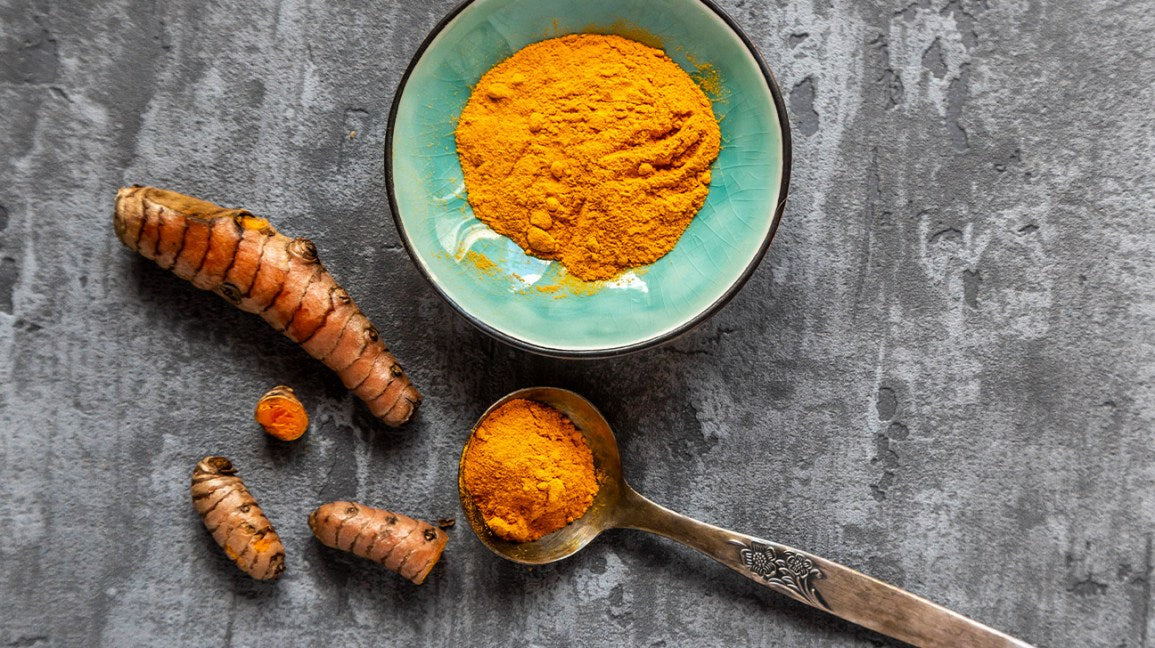 · By Luna Meschiari
Turmeric: Your Favorite Warm Autumn Spice...with a Twist!
Last week, we asked you what your favorite shot was and the Turmeric Shot was the winner. We promised an awesome recipe to go with the winner shot... but we brought you a little bit more than that! Keep on reading for a few recipes, perfect to boost your immune system and "yum" your way through the Autum!
First of all, what is Turmeric?
Turmeric is a spice that comes from the turmeric root, a part of the ginger family. It is mainly used in Asian food, but we can also use it in many western recipes. You probably know turmeric as the main spice in Curry.
It has a warm, bitter taste and is often used for flavoring or color. But the turmeric root is also frequently used to make medicine as it contains a chemical called curcumin.
Turmeric is commonly used for conditions that involve pain and inflammation, such as osteoarthritis. It is also used for hay fever, depression, high cholesterol, a type of liver disease, and itching. It is widely known for its mood balancing and anti-inflammatory powers (post-injury, for example).
Now that you know how good Turmeric is for your body... ready for a few awesome recipes? Let's start!
Recipe: Turmeric & Red Lentils Vegan Soup
Cold weather is upon us and creamy soups are always a welcome addition to our daily meals. This soup has all the good stuff your body needs to boost its immune system and recover itself from injuries or illnesses. 
Ingredientes (3-4 servings):
1 Onion

3 Zucchini

2 Carrots

Olive oil (to taste)

1 Can of Coconut milk

1 Cup of Red lentils

Nutmeg (to taste)

Cumin (to taste)

Tumeric (to taste)

Salt (to taste)

Black Pepper (to taste)

Seeds (as a topping)
Steps:
1) Cut the onion, zucchini and carrot into small pieces.
2) Heat the olive oil in a pan then add the Onion and let it sauté until golden brown.
3) Add the Zucchini and the Carrots. Let them sauté all together for 3-4 minutes at medium heat.
4) Add a bit of water, cover and let them boil for 15-20 minutes or until soft and fully cooked. 
5) Remove any remaining water, mash the vegetables together with a mixer until smooth.
6) Add the mashed vegetables to a medium sized pot, add the coconut milk and the red lentils. Bring to a boil and cover for 10 minutes. Make sure to check and stir so that it doesn't burn or stick to the bottom of the pot.
7) Now add the spices to taste, make sure not to overcook the spices so that they won't lose their properties.
8) Now serve in bowls and top it off with your favorite seeds. 
Even though this recipe is Vegan, you can then add toppings of your choice like feta cheese, shredded chicken, tofu, roasted chickpeas, and so on.
Enjoy!
Recipe: Turmeric & Ginger Tea
Winter can be rough to one's immune system. A common cold and the flu are always waiting for you around each corner. So you have to be strong to avoid those horrible symptoms of runny nose and throat pain.
This tea will help you stay strong and recover faster from both!
Ingredients:
- Turmeric powder
- Fresh Ginger
- Black Pepper Corns
- Half a Lemon Juice
- Manuka Honey (or standard Honey)

Steps:

1) Bring the water to boil.

2) Cute a few small pieces of fresh ginger and prepare the juice of half a lemon.
3) In a bowl, add turmeric powder (to taste), 4-6 pepper corns, the lemon juice and the fresh ginger pieces. Add the water and cover for 5 minutes.

4) Filter the brew into cups and add 1tbs of Manuka Honey in each. Then add the leftover pieces of Ginger into the cups.
Enjoy hot or cold! If you want a spicier version, add a couple grounded Cayenne peppers to the mix but be careful, it could make you cry!