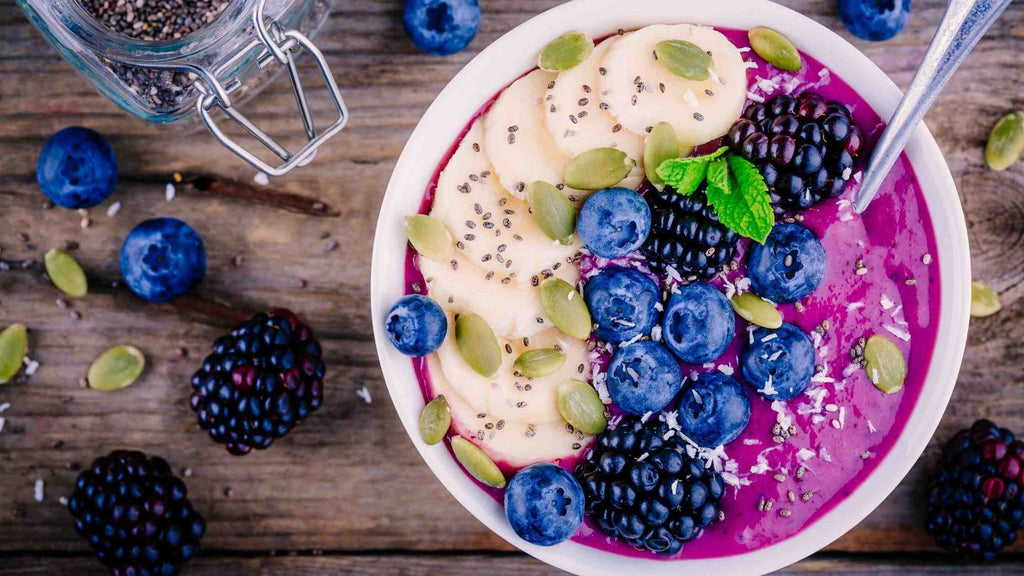 The acai in the bowl originates from Brazil, where people in the villages prepare this dish almost daily. Residents pick acai berries in the forests of the Amazon. These berries have an earthy, creamy taste and in the preparation of the Acai bowl, they must be frozen. In combination with Acai berries, other fruits are also used. The most common are other berries, such as raspberries, blackberries, blueberries, and strawberries, but also bananas. Cereals like granola and sweeteners like honey are also added. Overall, the acai bowl is one highly nutritious and healthy breakfast, and preparation varies between 10 to 15 minutes.
In addition to making acai bowls delicious and filling, they will have a positive effect on your health. It is assumed that the acai bowl trend will be more prevalent between 2022 and 2027 as the cosmetics industry has discovered how acai berries have medicinal properties. These berries will, in the long run, give your skin elasticity, and vitamins A, E, and C will improve the ability to regenerate your skin, bones, nails, etc.
How to make a classic Acai Bowl?
The recipes are very simple and can be made by anyone with a couple of necessary ingredients. Since the base of the Acai bowl is made from fruit, it must be frozen. Prepare the fruits you use for the acai bowl base and freeze them in advance. It would be best to keep the pieces of fruit in the freezer overnight for the best result.
The base for an acai bowl can be made from apple, banana, strawberry, and blueberry juice. You must put one packet of acai berry on all the frozen fruit you put. This package is usually bought frozen, so keep it in the freezer until use.
All the fruits you use in the base (banana, strawberry, blueberry, ...) should be half a cup. Let the apple juice also be half a cup, and you can use 100% Green Apple Juice. When you have prepared a sufficient amount of frozen fruit, put everything in a blender and mix until all the fruit turns into a smoothie-like liquid. The acai bowl is not over here yet; you have to prepare the toppings.
You can use whatever you want for the toppings. Here we will sprinkle homemade granola, 1 tbsp honey, fresh fruits such as apples, strawberries, blueberries, and chia seeds. Stack all these ingredients on the base in a pattern that suits you and you are ready for breakfast!
For those who want a little twist on the classic Acai bowl, below we write about all the toppings and bases that you can combine!
Variants of Acai bowl
For Acai, use, as we have already said, frozen products. For an authentic Acai bowl structure, it is best to put an acai packet. If you do not have it, it will also serve as a powder that you can buy in most healthy-oriented stores. Feel free to add a little sweetener (e.g. honey) to the acai bowl base if you buy an unsweetened packet.
The frozen fruit you use is best prepared for direct use. This means washing the fruit, removing the stalks and seeds. The most used fruits are strawberries and blueberries, and you can add other berries like raspberries and blackberries. Freeze the banana as well, add a liquid like a pineapple or apple juice, in this case, you can use the mentioned Apple juice. If you want more texture, add peanut butter or protein powder if you want to get extra satiated or if you eat immediately after training.
Now that you've made the acai, the toppings follow! You can use a lot of stuffing, and what we like to use are bananas, strawberries, peaches, mangoes, pineapples, kiwis, apples, blueberries, raspberries, and blackberries.
In addition to fruit, many add more to enrich the whole bowl. You can add peanut butter, honey, granola, chocolate granola, chia seeds, and coconut. These are just ideas, feel free to play with it and add some seeds that you prefer or fruits that you think would suit you better!
Gluten-free and vegan Acai bowl
For the gluten-free and vegan option of this beautiful bowl, you are free to use packets of acai blend. That will be enough for one serving. It would be best to use unsweetened as perhaps sweetened would be too much for your taste buds!
To prepare the Gluten and vegan-free bowl, prepare acai, sliced ​​and frozen banana, and almond/coconut milk. Blend the base, add the toppings as desired and that's it! Never a simpler gluten-free and vegan option Acai bowl. Add it to your healthy morning routine as well as few whole-body exercises and Green Juice for complete morning enjoyment.
With an acai bowl don't overdo it. It is rich in vitamins, minerals, and other nutrients that are needed, but excessive intakes could make your body feels heavy. It is known, sometimes less is more, so you may eat an acai bowl per week and eat a lighter version the rest of the days. A smoothie bowl can serve as an idea, but with less fruit, use one to two fruits and don't add too much sugar. Keep in mind that the acai bowl is full of sugar from the fruit, so even though the berries are full of antioxidants and the like, you shouldn't overdo it.
So, now when you have all the information, prepare your bowl and enjoy your morning dessert accompanied with Green Juice or 100% Green Apple Juice!