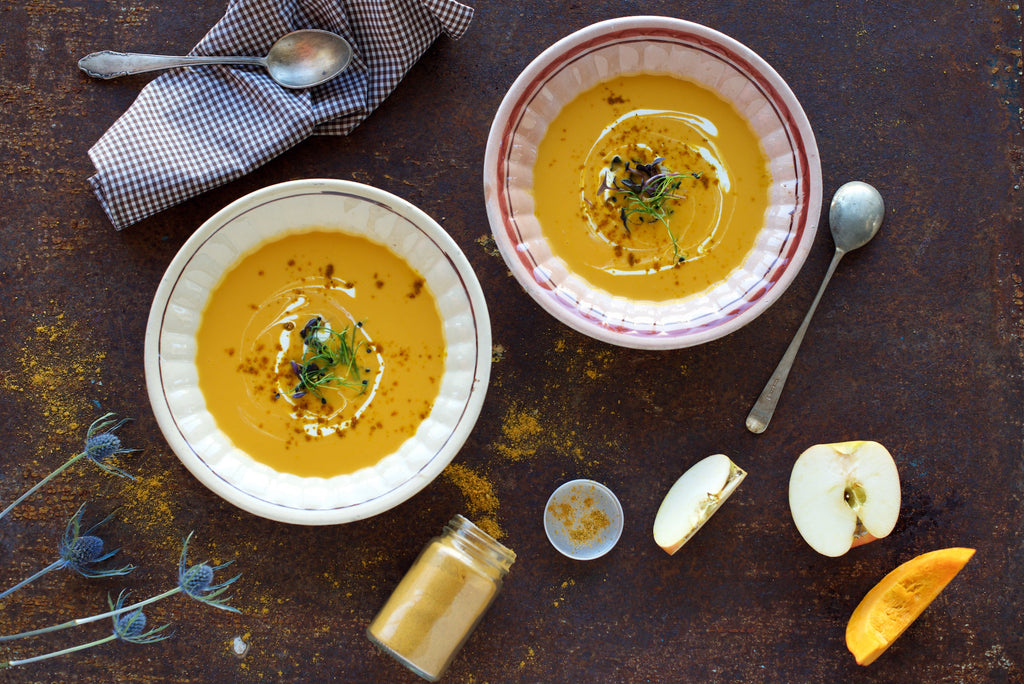 Autumn is finally here, and with it one of our all-time favorite fruits: the pumpkin. Its color, its flavor and above all its benefits make autumn perfect for delicious pumpkin recipes.
And soups above all are a very useful dishes. You can prepare them and keep them in the fridge for several days, or even freeze them for a leter use.
Pumpkin keeps very well in the fridge. That hint of sweetness is wonderful for your favorite dishes. The touch of apple makes it incredible and gives it a sweet and fresh touch.
Pumpkin is made of 90% water, making it perfect for your healthy diet. It has few Kcal and carbohydrates. Among its vitamins and minerals, folic acid stands out. So it is also very good for pregnant women. Potassium, calcium, magnesium, iron and zinc. It also has a high content of beta-carotenes, which give it its characteristic orange hue.
Pumpkin has some very important benefits for our health.
Pumpkin is rich in fiber, it reduces hunger and helps with the correct functioning of our digestive system.

Good for hypertension and blood pressure.

Regulates the level of glucose in the blood.

Good for your eyesight. Due to its content in Vitamin A.

Helps preventing constipation.

Helps with prostate and lung problems. Due to its high beta-carotene content.
But let's get to the interesting part!!
Recipe: Vegan Pumpkin and Apple Soup
Preparation: 10 minutes.
Cooking: 20 minutes.
For 4 people.
Ingredients:
1 kg of pumpkin

2 glasses of vegetable broth

1-2 golden apples

1 onion

1/2 clove of garlic

Olive oil

Nutmeg

Ground pepper

Salt
Preparation
First you have to cut the pumpkin into pieces, peel the apple and onion. Also peel the garlic.

In a saucepan or frying pan over medium heat add the oil, onion and garlic and leave to sizzle until golden for a few minutes.

Next we will add the pumpkin and the apple. Sauté for about 5 minutes.

Add the vegetable broth and some water to cover the ingredients. Season and stir.

Let it cook for about 15 minutes and check that it is well done. Prick with a fork.

Blend, and add the nutmeg and a little salt if necessary.
Pro Tip: To get a rich flavor in your vegetable soups, you have to sauté the vegetables. Always put the pot with a little oil and let them fry to get all their flavor. You can also add some toppings that you like. Add some seeds, herbs or tofu on top. This way you will add healthy proteins and fats to your pumpkin and apple soup!
We hope you liked this delicious and healthy pumpkin and apple souprecipe perfect for fall!