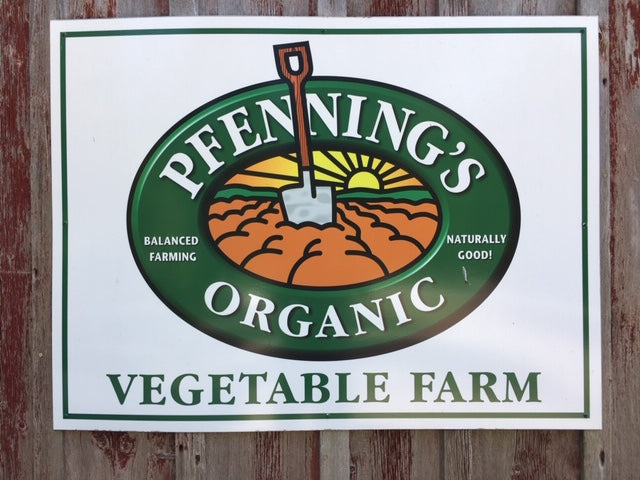 At Buda we pride ourselves on obtaining the freshest organic local produce available.
Over the coming weeks we will be featuring some of the amazing local farms we get our produce from during Ontario's growing season.
To kick off our local farm feature segment we wanted to start with a true Ontario Organic family farm. Pfenning's Organic Vegetables is a certified organic farm, owned and operated by the Pfenning family. The home farm is located about 1.5 hours west of Toronto in New Hamburg (within the Waterloo region).
Pfenning's has been an integral part of our mission since the beginning- helping us sustainably fuel our juices with local Ontario produce. During Ontario's growing season they supply us with beets, carrots, kale, spinach, romaine, parsley, fennel as well as field cucumbers for all of our juices.
Pfenning's also collaborate with many smaller local farms that they which allows them to offer more variety of local, organic produce while also simplifying the process so small farms are able to get their produce to the market… it's a win-win!
What does Pfenning's supply us with?
No 01. Green Juice:

 

Kale, spinach, cucumber, parsley
No 02. Red Juice:

 

Beet, carrot
No 03. Orange Juice:

 

Carrot, cucumber
No. 04 Blue Lemonade: Cucumber
No. 05 Pure Green Juice:

 

Cucumber, spinach, kale, fennel
No. 10 Zen Kale:

 

Kale

More about Pfenning's Farm
Fun Fact: They were one of the first organic farms in Canada! In 1981 when the Pfenning family moved their farm from Germany to Canada, a Canadian organic certification didn't even exist yet! The Pfennings were part of the development of some of the earliest certifications and have continued to be active members of the organic industry along the way. 
The Pfenning family: Wolfgang, Markus, Jenn, Ekk, Ernst, and Tristan
The Pfenning family places a huge value on prioritizing "local first" and focuses on family, community building and respect for nature above all else.
Nature 
A big theme on the farm is working in harmony with nature. By utilizing mechanical ingenuity they have been able to focus on companion planting, biodiversity, soil health, etc. as their recipe for success.
People & community 
The Pfenning's farm family is much larger than just the immediate family. The businesses operations are supported by approximately 50 year round employees and an additional 70+ seasonal employees, including migrant workers. All of the staff at Pfenning's are not only employees, but neighbours and friends. Jenn Pfenning has been actively engaged in addressing the issues within the Temporary Foreign Worker Program for many years. These issues have become more pressing than ever in the face of the pandemic.
 Want to learn more about Pfenning's farm and see how can you get Pfenning's at home?
Check out where Pfenning's produce is available near you!
Follow what's happening on the farm on Facebook, Twitter, Instagram, and LinkedIn.