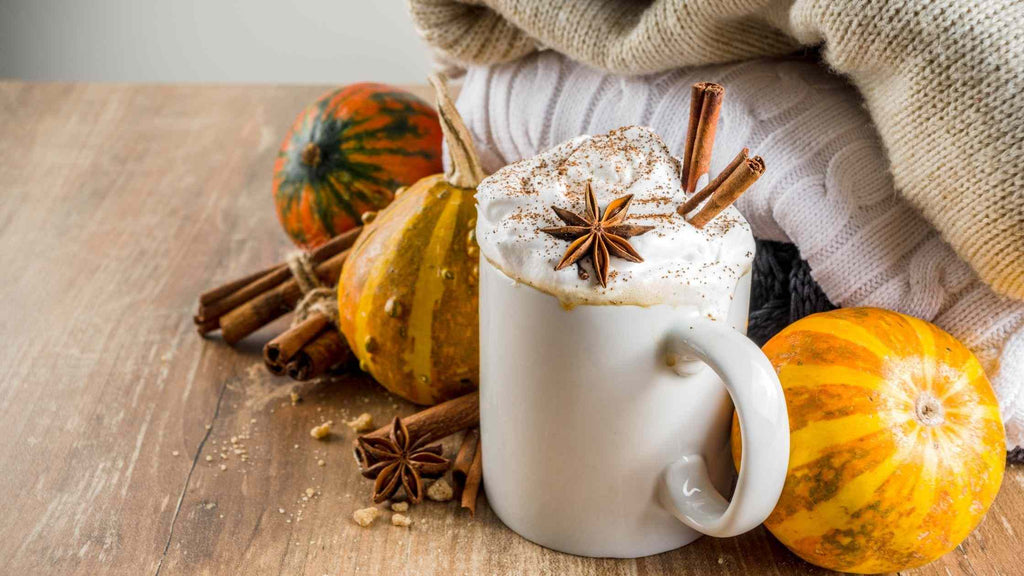 Pumpkin Spice Latte, or more simply PSL, as many call it today, is one of the more popular drinks today. Pumpkin Spice Latte is the sweet dose of coffee we all crave. If you want to try it today, you have to go to Tim Horton's and pay about $ 4, which is quite high for something you can .... DO BY YOURSELF! In addition, some provinces do not yet have a Tim Horton's branch, so most are deprived of this beautiful, autumn treat.
One Medium (or Grande) PSL with four pumpkin spice pumps, whipped cream, and 2 shots of espresso has just over 300 calories. Want to ingest all 300 and some calories right after breakfast? Even if there is a much healthier and equally delicious variant?
Tim Horton's PSL has a lot more refined sugars, which have been proven to slow down our body, raise its insulin unnecessarily and make us heavy and tired!
What do you need for a homemade Pumpkin Spice Latte?
What you will need to prepare PSL coffee is definitely less caloric than regular PSL!
Brewed coffee (2 shots)

Unsweetened vanilla-flavored almond milk (1/2 cup)

Pumpkin puree (3 tbsp)

Pumpkin seasoning (1/2 tsp)

Vanilla extract (1/2 tsp)

Sweetener (2 tsp)

Pinch of cinnamon
Preparation is more than simple, and you only need to have a blender or stick mixer.
Mix vanilla-flavored almond milk with pumpkin puree. Pour everything together into a pot and cook gently. If you prefer, you can put the same mixture in the microwave. If you opt for a microwave, it is important to stir the mixture every 10 seconds to combine.
When you have warmed the almond milk and pumpkin preparation, add the spice, vanilla, and sweetener. Stir and blend with a stick mixer. That way you will get that foamy texture.
Prepare a large, tall glass, pour in the brewed coffee, and add the resulting mixture of milk, pumpkin, and spices. Finally, sprinkle a little cinnamon on top for a complete Tim Horton's Pumpkin Spice Latte!
You just made the famous Pumpkin Spice Latte that will cost you about or less than $ 3 and has about 80 calories!
Sweeteners
What takes great credit for this healthy homemade pumpkin spice latte are the sweeteners. And Tim Horton's uses sugar in its coffees, and the point is to find out which of the sweeteners is the best choice. If you plan to drink a healthy homemade pumpkin spice latte every day, it would be great to find the least harmful sweetener so you can fully enjoy your morning coffee.
Sugar is globally known to contribute to poor dental health. In addition, it does damage throughout your body by excessive consumption, leading to heart problems, obesity, ulcers, cholesterol problems, circulation, liver degeneration, nervous tension, and the like.
Any sweetener can go into a healthy homemade Pumpkin Spice Latte, test for a couple of days that suits you best, and just consume that one.
Some of the recommended, healthier, but also natural sugar substitutes are:
Agave nectar

Coconut sugar

Honey

Date paste

Maple syrup
In addition to natural, one of the sweeteners we especially love is stevia. Stevia is an artificially produced sugar that has no calories and is quite intense. Since it is intensive, we recommend that you start with smaller amounts than written and gradually introduce more if necessary.
Other replacements
Milk - you can use any. It is important that it is dairy-free. Dairy-free milks are soy, rice, almond, coconut, cashew milk, hazelnut, oat, or hemp. The choice is really large, and you can take it unsweetened, or sweetened. In case you choose sweetened, don't overdo it with sugar.
In addition to the type of milk, you will use, pay attention to the taste. You may prefer vanilla-flavored milk because it will elevate the overall taste and impression of your healthy homemade pumpkin spice latte.
Coffee - any will do the trick. The one used in this recipe is homemade freshly brewed coffee. But any coffee will be quite a good choice for a healthy homemade pumpkin spice latte.
If you have the desire, you can enrich this healthy homemade pumpkin spice latte by another degree. Whipped cream. You can also make your own homemade whipped cream, and you can also buy some with a lower fat content, plant-based. There is no need to add sugar to the whipped cream, and if you really want extra sweetness, you can mix in the vanilla extract.
Enjoy!