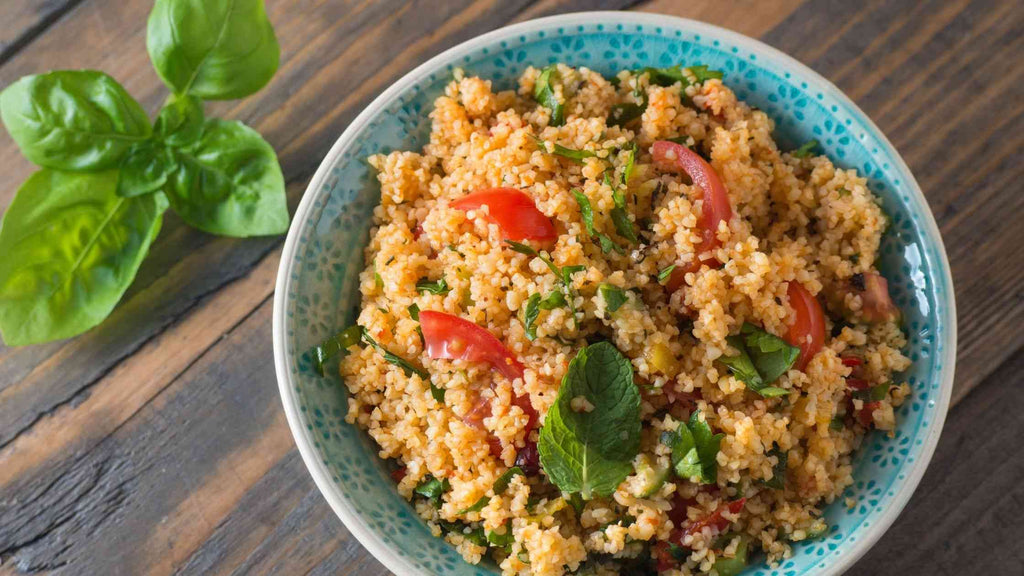 Quinoa salad is one of the simpler and tastier salads. It can be prepared in summer and winter and is also suitable for allergy sufferers. It can be eaten by children, vegans, and vegetarians, spices are added at will, and it can stand for up to 3 days in the refrigerator. This Quinoa salad is very versatile, it comes in many shapes, and this one is one of our favorites.
Quinoa is known as Super Food. It originated in South America and was a staple in the Inca diet. It only tells us that it was such a healthy and quality food that it was used by the ancestors of our ancestors. It is rich in fiber, iron, manganese, copper, magnesium, and phosphorus. And the best part is that quinoa belongs to the category of protein plants, which means that it contains all 9 necessary amino acids. As we said, it is full of protein but not full of calories so it is easily introduced into the weight loss diet as well.
This cereal is very tasty when prepared by someone who knows how to do it. Read below to get the perfectly cooked quinoa. And of course, how to use that cooked quinoa in today's lunch.
How to cook quinoa perfectly?
Quinoa has only now become a popular food. It was not really used in food because most people do not know how to cook it exactly, and to make it very fine.
The first step is toasting. Quinoa will become finer by toasting, just like other nuts. Put the amount of quinoa you want on a dry pan and bake for up to 7 minutes. Don't forget to stir the quinoa so it doesn't burn. You will know that it is done when it takes on a fine scent and when it becomes golden in color.
Once you've toasted it, it's time for water. It is important to rinse the quinoa because it has a natural layer of saponin that leaves a bitter taste in the mouth. Many skip this step. Which in turn leads to the throwing away of this high-quality food.
The third step is cooking. Act like you're cooking pasta. Add water in a ratio of 3: 1 water and quinoa. Put the quinoa in rainy salted water and let it cook for about 12 minutes. You will know that it is cooked when white bread is created around the grain. Be sure to try the quinoa before squeezing. Once you have strained it, let it rest for about 10 minutes to drain all the water it has picked up during cooking.
Ingredients for Quinoa salad
Now that you know how to cook quinoa, it's time to use it. First of all, of all the mighty couples you are certainly thirsty. Take a moment to rest and treat yourself to No.01 Green Juice with natural juice. Definitely a good choice with today's lunch - you'll be bursting with health! But let's get to the salad.
To prepare Quinoa salad you will need the following:
     

150g of quinoa

     

1 cucumber

     

1 red pepper

     

1 yellow pepper

     

½ port

     

A handful of parsley

     

2 mint leaves
Dressing:
     

50ml of olive oil

     

1 tablespoon vinegar

     

A bit of salt

     

A little pepper

     

Mix of herbs
You cooked quinoa. Now prepare the vegetables and dressing. As for the vegetables, peel the cucumber and clean the peppers. Toss onions and peppers in a pan, let simmer a bit. After 5 to 10 minutes, remove the vegetables from the heat. Mix the quinoa and vegetables and add the chopped cucumber. You will then chop the parsley and mint. Parsley and mint will serve as a garnish to your Quinoa Salad.
Preparing the sauce is also very simple. Mix all the ingredients, pour over the salad, sprinkle with parsley and mint, and there it is! Your Quinoa Salad is ready and ready to eat! You can serve it as a main course, as a snack, dinner, and it is also great to take to the office.
What will go perfectly with Quinoa Salad is No.02 Red Juice because it contains fruit so have at it and enjoy!