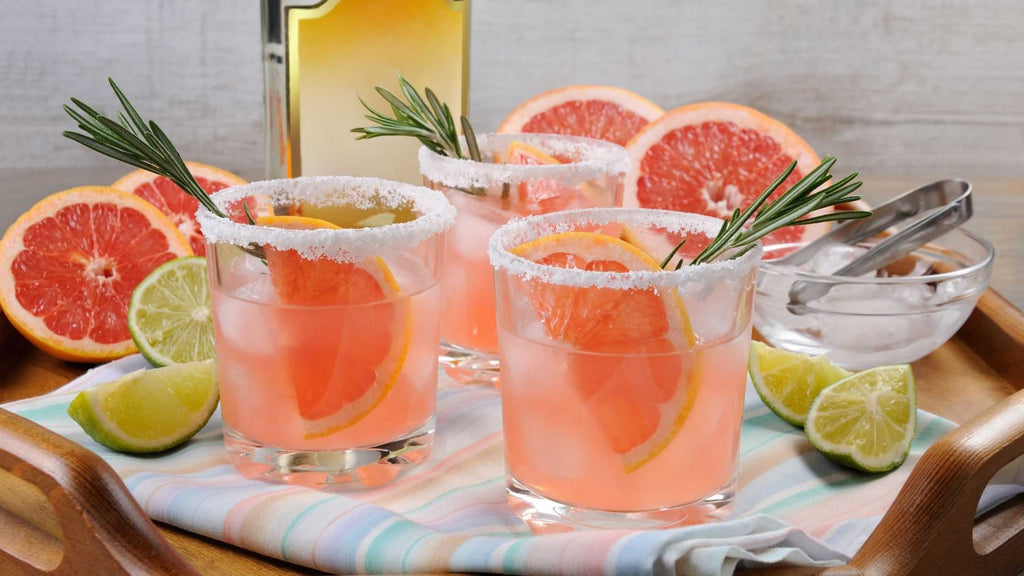 We all like to drink a good cocktail. Whether it is summer or winter, we will always be happy to enjoy the colorful scenes that the cocktail creates. Unless you're driving, if you have some work to do right then, babysitting ... Then you'll have to drink non-alcoholic - mocktails.
Don't worry about the fact that these are non-alcoholic cocktails, we all know that they are the finest. And we have the trick of adding alcohol without adding alcohol. Yes, yes ... Virgin cocktails to prepare at home have never been finer and simpler. And cheaper.
Mocktails are a great choice of drinks for all home parties. Your party will look like it was organized by a professional and the guests will be happy. 2 in 1 - homemade mocktails!
Below you will see how many classic cocktails can be in the virgin version! And Buda Juice cold-pressed juices and shots will help you with that!
What makes a virgin cocktail prepared at home perfectly? You! Let's go.
Tips & Tricks for virgin cocktails prepared at home
Before we start making virgin cocktails, we need to prepare briefly.
     

Use soft drinks. The choice is up to you, but soda water must definitely be on your shelf.

     

In addition to sparkling drinks, be sure to prepare fresh juices. Juices like X and X will make a big difference. The more natural, the better!

     

How to make a virgin cocktail alcoholic? Add a little cucumber juice! It will create the illusion of an alcoholic beverage, and you won't have to deal with drunken guests.

     

Prepare ice and toppings like tin, lemon, salt, sugar ... Everything you need to make a virgin cocktail will be written in the recipes. A good cocktail is nothing without its garnishes.

     

Shake your mocktails. Forget about mixing, real cocktails need a little turbulence!

     

And the last, but not the least important type. Make enough virgin cocktails! Let your bill be at least 2 per guest ... Although we all know that you will need more, who can resist a colorful cocktail ?!
Cocktails up!
Recipes for Virgin cocktails prepared at home
1. Margarita Virgin cocktail
We all know about Margarita. The birds on the branch sing about her, that's how famous Margaritas are. It would be okay with everyone to drink this magnificent drink even in virgin style. Margarita is a drink that is drunk while lying somewhere on the beach or enjoying the sunset. If you want to prepare it now, you will need several ingredients:
Lime juice

Root - Lemon Zest

Soda Water (Tonic water is the best)

Sweet syrup

Pickle juice

sol

ice

mint leafs
 It would be best to use a long thin glass to prepare virgin cocktails at home. Moisten the rim of the glass with a slice of lime and dip in salt. Take a shaker and put the ingredients inside. You will use ½ cup Lemon juice, ¼ cup lime juice, ¼ cup soda water, ¼ cup sweet syrup, ¼ cup pickle juice. Shake it all in a shaker and pour it into prepared glass. Add 3-4 ice cubes and sprinkle with finely chopped mint. Put one slice of lime on the edge of the glass and you're ready! You can finally serve your virgin margarita cocktail prepared at home.
2. Mojito Virgin cocktail
Like Margarita, we all know what Mojito is. We drank it on warm summer nights... Let's get ready for the guests before they come! You will need (these are measures for about 4 to 5 people):
About 20 mint leaves

2 dl lime juice or No.05 Pure Green Juice

Lime rings

2 tablespoons honey

1l tonic water

Ice

Cucumber juice if desired
Add about 10 mint leaves to the jug and add lime juice. Crush it all together to let the mint release its aromas. Add the honey and mix again until the honey is completely incorporated. Pour tonic water over it all, add lime rings, and the rest of the mint leaves.
It would be best if you added crushed ice before serving. The effect of crushed ice can be achieved very easily. Leave the ice briefly at room temperature (about 5 minutes max.). Then gather the bag with your hands so that nothing falls out and push the bag against a strong surface several times. For example, it can be a floor or wall. If you are still not satisfied with the result, a good old blender will also serve.
Also, put a few drops of cucumber juice as in the previous recipe. Separate a glass of some Mojito and try it!
3. Virgin Pina Colada
"... And we laughed for a moment, and I said, I never knew ... That you like Pina Coladas, and getting caught in the rain, And the feel of the ocean and the taste of champagne, If you like making love at midnight, in the dunes of the cape, You're the lady I've looked for, come with me, and escape. "
You see, Pina Colada even reconciled two lovers, what else is this drink up to?
You will need:
     

200g pineapple

     

3dl pineapple juice

     

3dl of coconut milk

     

2 tablespoons honey or sweetener as desired

     

Ice
Peel the pineapple and put it in the freezer, but cut it into small cubes. Mix the rest of the pineapple in a blender. Add ice to the blender as well. Put the milk in a blender, pineapple juice, and honey. Mix until you get a thick mixture. When all is done, take out the frozen pineapple cubes, put the mixture in a large glass, and add the pineapple. Feel free to add more ice if desired. Garnish with a piece of pineapple and a small, decorative umbrella. Voila!
4. Virgin Mimosas
Would you care for more mimosa? We certainly do. This drink is so simple that it had to be in our top 4 virgin cocktails. With just a few ingredients you will make a divine drink. Don't be fooled by this "virgin" prefix, because this Mimosa delights even the most stubborn fans of classic cocktails. It will serve perfectly at celebrations like birthdays where there are children or baby showers!
To prepare this virgin homemade cocktail you will need:
     

12 oz No.08 ZEN ORANGE

     

¼ tsp Sweet syrup

     

12 oz Ginger Ale or any sparkling water

     

Ice
Garnish (orange wheels)
In a shaker, add orange juice, syrup (can agave or honey), and sparkling water. Shake the shaker. Prepare a glass, it would be best to use long and thin glasses. Like those for champagne. Prepare ice cubes, put them in a glass, and pour ice on your virgin cocktail prepared at home. Finally, add orange wheels to the rim of the glass for a special effect. You are ready to feast!